BEARS FANS SAY: BRING ON THE EAGLES
It's apparent that anything less than a trip to Miami would be a major disappointment. A 40-7 drubbing of the Bills (a decent football team), a record of 5-0 and a 2-game lead in the division have rendered it so. That, and all the sacks, picks, bombs and big hits. How many big plays can one team have? We have a rookie with 7.5 sacks and he doesn't even play that much!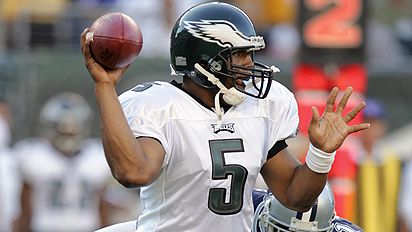 In the NFC, New Orleans and St. Louis are 4-1 but clearly have weaknesses. Philly has emerged as the biggest favorite to battle the Bears for the NFC title. They were impressive last night against a good Cowboys club.
Bears fans would love the chance to play Philly in the title game. It wasn't that long ago the Eagles came to Soldier Field and flattened the Bears 33-19 in the NFC playoffs. That was the game that Hugh Douglas nailed Jim Miller on a block after a pick and Shane Matthews replaced him. It was ugly all-around as the Eagles were clearly the better team.
But what about this year? The Eagles have allowed 24 or more points in 3 of their first 5 games. As good as McNabb and his crew are, they are not putting up 30 on the Bears. Eli Manning shredded their D in Philly. I suspect Grossman could do the same here in Chicago.
Bring on the Eagles. It would make the second shuffle even sweeter.
Technorati tags: Bears / Rex Grossman / Donovan McNabb / Eagles / NFC / NFL