RANGERS PUT ON SOME SHOCK AND AWE
Hey Dave Trembley! You were just re-signed to be the manager of the Orioles for next season! What will you do next? Watch your club give up 39 runs in a doubleheader, 30 in the first game.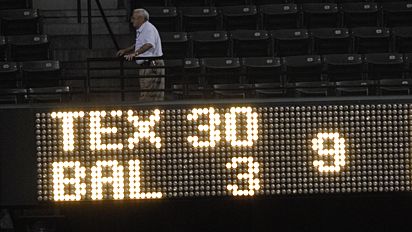 Orioles relievers Brian Burres, Rob Bell and Paul Shuey combined for the following numbers:
4 innings, 156 pitches, 22 hits, 7 walks, 4 homers and 24 runs.
And I'm going to guess countless utterances of profanity. But here is perhaps the most interesting stat of all–the game took only 3:21 to complete! How did that happen?
[tags]Orioles, Rangers, MLB, AL East[/tags]